As I type the title of this post, I am sitting here in disbelief that I have a 5 month old baby! I know it sounds cliché, but it literally seems like yesterday we were on our way to the hospital to meet our little girl. We are first time parents and had no idea what we were getting into. But, wow, it has definitely been better than anything we could have imagined. Now that Ella is 5 months old, I thought it would be fun to share a quick update and also share a few of her favorite products and a few things we use all the time!
Our little Ella is so full of life. I know I am her mom, but seriously, her smile lights up a room. It is like nothing I have ever seen before. And don't even get me started on her laugh. Thank goodness no one can see me dancing around and making ridiculous faces all day and basically anything I can do to make her laugh. She is curious about everything and loves to sit up (with help) more than anything. Everyday she is learning something new and I watch in awe. I can see her little brain developing right before my eyes and it is truly a beautiful experience.
Okay, so on to share a few products that Ella loves, and a few that mom loves!
I have talked about this chair so many times before, but it is truly our most used baby product ever. We have so many other seating options including a high tech swing that we can control from our phone. But, this $50 Fisher Price number is the bees knees. We use this every single day and Ella absolutely loves it. It vibrates, plays music and has a mobile that hangs down that provides lots of entertainment. It also bounces which is clutch for a fussy baby. I honestly cant recommend this chair enough. Save your money on all the fancy options (trust me, I have them all) and thank me later.
Meet Frederika the fox. This little fox is Ella's best friend and is never to far away. Now Ella has a bedroom full of every kind of doll, stuffed animal, lovey you can imagine, but none compare to Freddy. This fox has lots of entertainment options. Her ears are krinkly, which Ella loves. She also has a teething toy that hangs down and a little rattle with colored balls that Ella is captivated by. And, her little whiskers are apparently really fun to try to grab. She also loves to grab the yellow ring on Freddy's head. Anyway, you get the idea. I would highly suggest this toy or something similar that has several options to keep your sweet little one occupied for a few minutes if you need to use two hands for a task.
This play gym is another toy that we couldn't live without. There are a million different ones available at all different price points. You don't need an expensive one, just one with fun colors and lots of accessories to look at. These little stars and moons rattle and squeak and are very entertaining to a 5 month old. She uses a lot of energy playing here and it helps to get her good and ready for her naps!
Are you sensing a theme here? Ella likes bright toys that she can look up and see. This little number from Amazon has been a lifesaver. That may sound dramatic but I am being serious. The giraffe plays "Its a Small World" which is apparently Ella's all time favorite song. If she is fussy in her car seat, all I have to do is press the little giraffe and she is all smiles.
Hooded towels are an absolute must for a baby! I read this on lots of baby registry idea lists and now I know why. We use these every single time we give her a bath. Little babies can't regulate their temperatures as well as adults and they can quickly get cold when they are wet. As soon as we take her out of the tub, we put her in her chair (see another great time to use this chair) and wrap her up! I love that her little head is covered so she doesn't get too cold! This one is from West Elm + Pottery Barn and is so thick and nice, but we have several cheaper ones that work great too!
Books, books, books. Ella loves books. She has a few favorites, including this krinkly Sesame Street one. It makes a lot of noise and it has a rubbery corner which is great to chew on. She is a big fan! Another favorite of hers is called "Good Morning Farm Friends" by Annie Bach. She gets so excited to look at all the farm animals and to try to turn the pages of the book herself! My hubby is a total book worm, so I hope Ella is too! We are part of an amazing program (where we discovered this farm book) called Imagination Library. It is headed by Dolly Parton (you only thought you couldn't love her more). It's a program that mails great books to children from birth to the time they start school, regardless of income. You just go online and register and then you start receiving amazing books for your babies! It is an incredible program (totally free) and is available in the US, Canada, Ireland, Australia and the UK currently.
Okay, this car seat cover may be something on my list rather than Ella's, but either way, you need one if you have a baby. This stretchy fabric covers the car seat and protects your baby from germs. It is cold and flu season, so I always have this on if we are somewhere crowded. It also provides a nice darkened environment if she is napping while we are out. Lastly, its great to keep them covered if its raining and you have to get out. I love this thing and never leave home without it! The fabric is very stretchy and can double as a nursing cover or a cart/highchair cover! Truly a must have for anyone with a baby!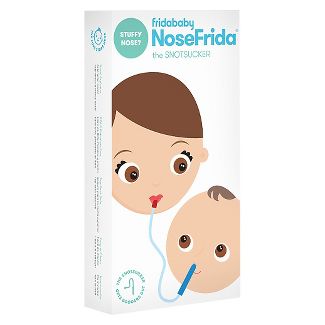 The last item that I want to mention is definitely not a glamourous one! I decided to spare you all the pictures, but if you are a parent, please read on. Have you heard of the Nose Frida? OMG. I had heard of this product for years from friends with kids, but never imagined myself using one. However, when your little baby is congested and can't blow their own nose, trust me you will want one! Ella's little nostrils are so tiny that a traditional bulb suction won't work for her. Also, they harbor bacteria. The Nose Frida contraption works like a champ! Their motto is "suck it snot" and that is just what it does. It sounds funny, but it works so well. Trust me, its amazing. We also use the humidifier from this brand with their vapor drops and we love it so much. It has a sleek design and will run all night long once its filled up (it also has a soft glow nightlight if you need one). We have several other "Frida" products like nail clippers that we absolutely love (do you know how scary it is to clip a tiny baby's nails?). This line of products are just great and obviously created by parents who know the deal! I highly recommend this whole line!
These are just a few products that we are loving now that out little one is 5 months old (time SLOW DOWN). There are so many products out there, it's hard to know what to choose! The items on this list are all tried and true and come highly recommended from sweet Ella! I hope this helps.
And just a few more because she is so cute….